Image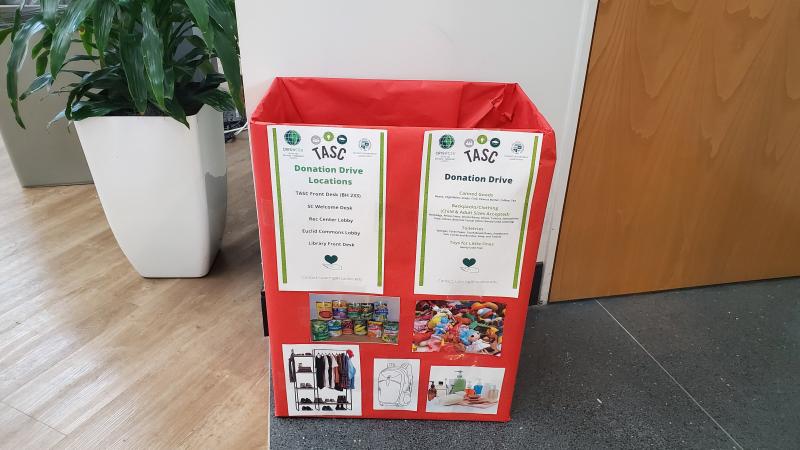 Credit: Willow Graley
CSU's Student Government Association hosts donation drive for Afghanistan and Ukraine refugees
The SGA, CSU's Tutoring and Academic Success Center and the Center for Refugee and Immigrant Success are hosting a donation drive to aid people fleeing the war torn countries.
Cleveland State's Student Government Association (SGA), Tutoring and Academic Success Center (TASC) and the Center for Refugee and Immigrant Success (CRIS), are running a donation drive to aid Ukraine and Afghanistan refugees in the Cleveland area.
The drive runs until April 15. It's a collaborative effort to help families in need of basic necessities after relocating to the Cleveland area from war-torn Afghanistan and more recently, Ukraine.
"We are able to ensure that more students increase their awareness of ongoing refugee issues while families receive adequate care that is so desperately needed at this crucial time in history," said SGA President Martin Barnard.
"It feels amazing to be involved with so many incredible departments on campus," Barnard said. "It makes all of this seem more real than if SGA were performing by itself."
Barnard also touched on some of the items students can donate and are encouraged to help the donation drive effort. 
"Other than the listed items, students are encouraged to donate prepaid gift cards, personal items (especially women's care products), shower curtains and bathroom cleaners," the SGA president said. "Often these families arrive with little to nothing, so every little bit helps them feel more comfortable while living here." 
For a list of items to donate, students can visit the SGA instagram page. 
Drop-off locations are at Student Center Atrium (behind the welcome desk), TASC's office (located at Berkman Hall 233), the main entrance of the Michael Schwartz Library, in the CSU Rec Center and lobby or Euclid Commons. 
"TASC regularly supports students in need on campus, and CRIS, while new, has experience with other community partners that allow us to increase our overall impact," Banard said, of the collaboration.
He added that the initial momentum of the drive was good, with two weeks still to go. So far over 500 items have been donated. But the aim is to collect at least 2,000.
"While what we have seen so far is exciting, it is important to remember that the needs of these families are rapidly increasing as the number of refugees grows over the upcoming months," Barnard said.
Now, what happens to the donated items? 
Barnard explained that the refugee families either get specific items delivered to them or are invited to pick out what they need from the service group closest to them.
"Because this effort is a large collaboration involving multiple community players, there is a wide-reaching network of affiliates that will be working together to match families with their most needed items," Barnard said.
CSU's distribution model requires that it is first collected on campus, then sent in bulk to the service group.
"The community donation center will then coordinate with local families and ensure that they receive the specific type of aid that they need most," Barnard said. "It is a bit of a matching game, because some families with children need backpacks than those with two adults who may find greater use with clothing, coming from college students." 
The first round of donations will be matched with the families in need, starting April 15, the same day the drive ends.
"This donation drive will continue until Friday, April 15, but our hope is that this spring donation drive will lead to future efforts from students during the semesters ahead," Barnard said. He added that the organizers of the drive did not want to limit the compassion the Cleveland State community was showing.
"By seeing what we could accomplish in just over the two months, perhaps the student body will continue to support local refugee families next year and those to follow after," the SGA president said. 
"The more we donate, the more we give these families a fighting chance to find a future here in the Cleveland community."