Image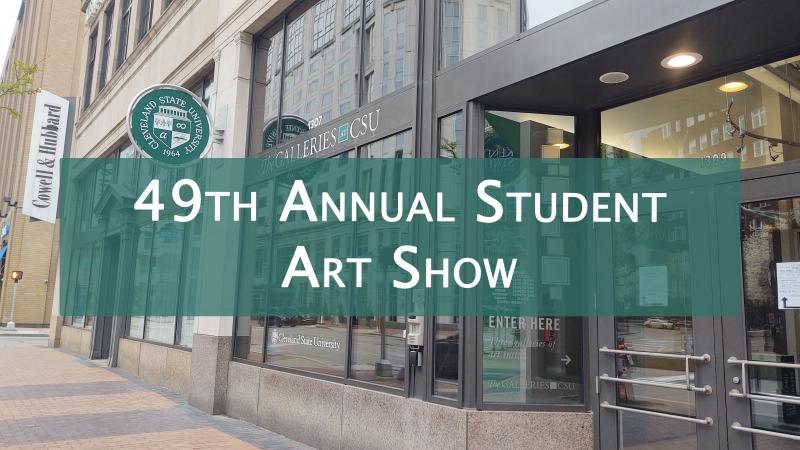 Credit: Courtney Byrnes
CSU's The Galleries to showcase the best of student art
The 49th annual student art show features 81 works by 43 students and will stay up at The Galleries at CSU through June 5.
Cleveland State University students' artworks will once again adorn the walls of The Galleries at CSU as the 49th annual student art show opens May 4 and will run through June 5.
Last year's student show, which would have been number 49, was replaced with a virtual showcase after The Galleries closed its doors on March 16, 2020 in compliance with the Ohio governor's orders as cases of COVID-19 spread across the state.
"I was so bummed because I was so looking forward to showing off my work from my photobook because that was one of my biggest projects and I worked really hard on it," Emily Funari, a senior studio art major and employee at The Galleries, said. 
This year's show sought submissions from all CSU students as well as 2020 graduates who missed out on their final show last year.
"It was unfortunate that they missed their opportunity for a student show, so we wanted to recognize that and invite them back," Kendall Christian, the director at The Galleries, said.
All artwork created in the past year and in 2020 is eligible for submission in the juried show and has the chance to win one of the many awards. The top prizes are the Spademan Best in Show award of $500, a second place award of $300 and the President's Award of $200.
There are also seven "Best in" awards worth $100 each in the categories video and animation, sculpture, photography, printmaking, painting, drawing and merit.
"If you total all that up, that's $1700 in awards which is a historically high amount," Christian said.
The awards will be announced in a virtual reception over Zoom on May 7 at 6 p.m. which gives people a chance to preview the show in person beforehand and take a guess on which pieces won. 
CSU President Harlan Sands is scheduled to speak at the start of the awards ceremony.
What's on display and when can you visit?
The show will feature 81 works by 43 students who have been working alongside their professors. The Galleries will be open Tuesdays through Saturdays from noon to 5 p.m. for students, friends, families, the community and visitors to see the works on display.
"There's a general excitement just to be back," Christian said. "Just to come into a gallery and look at art; there's just an excitement in the air."
While this show is in-person and open to the public, COVID-19 protocols will be in place including a temperature scan as you enter, one-way traffic from the front to the back, social distancing, mask wearing and a limited occupancy of 23 people in the gallery at a time.
Apart from last year, the student gallery showing has not been canceled in 49 years which is why this year's show has kept the name of the 49th Annual Student Show, making next year's 50th Annual Student Show a big milestone with a proper celebration.
Christian is hopeful that as things return to as near to normal as possible, next year can have more student involvement and bigger cash awards.
"We wanted to save the 50th show for something that we could really celebrate."
To attend the virtual awards ceremony on May 7 at 6 p.m., please use the Zoom link here.