Image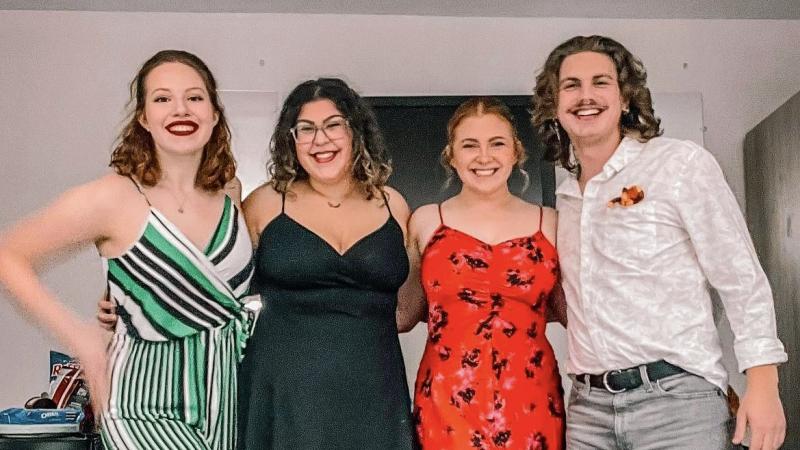 Credit: Claudia Cromly
CSU students shine at regional theatre conference
Four Cleveland State University theatre students were nominated last spring to attend the Kennedy Center American College Theater Festival (KCACTF), an event that offers further education and experience for aspiring performers in higher education.
While most college students accomplish their studies on campus or at home, four Cleveland State University students recently had the opportunity to travel to West Chester, Pennsylvania to add to their education at a prominent regional workshop. 
From Jan. 17-21, Cleveland State students – Claudia Cromly, 21, Kierstan Conway, 21, Rita ElJamous, 22, and Jaren Hodgson, 21 – attended the Kennedy Center American College Theatre Festival (KCACTF), a theatre education conference for students and faculty. This was Festival 55 for Region 2 of KCACTF, which includes Ohio, Maryland, Delaware, the District of Columbia, New Jersey, Western New York, Northern Virginia, Pennsylvania and West Virginia.
"This experience helped me as a performer. I met and connected with some very influential and talented people that I hope to stay connected with through the rest of my career," ElJamous said. "It truly made me even more thankful for the education I receive at Cleveland State University and that I was able to apply all I have learned the week I was there."
The event provided attendees access to various theater and dance workshops, the chance to act in a peer-written one-act play and opportunities to attend multiple productions. In addition, students had a chance to win the Irene Ryan Acting Scholarship and later perform in Washington, D.C.
"Whether it was performing, attending productions, going to different workshops, or rehearsing for a one-act, our daily schedule was always full of something to do," Cromly said.
Prior to their trip, the students were scouted by KCACTF recruiters at CSU main-stage productions this past spring. Once nominees are selected and agree to attend, they are required to submit a registration fee as well as videos of them performing two monologues and a scene with a partner. These submissions act as their audition for the Irene Ryan scholarship as well as the one-act productions and allow for mentors to assess students' abilities and provide notes upon welcome.
Once at the festival, those who had made it into the semifinals for the Irene Ryan scholarship were announced and Cromly was among the names called. Her entrance into the semifinals meant she was expected to perform her scene and one of her monologues in a performance later that week.
Although she was the only CSU student who progressed further into the scholarship competition, throughout the week all the attendees were able to access a smorgasboard of training courses and productions. These classes included stage-fighting, improv training, dancing intensives, eating onstage, and the Chekhov technique.
"One (workshop) that really stuck out for me was one focusing on the teachings of Anton Chekhov," ElJamous said. "Led by the wonderful Baron Kelly, we learned to focus on the psycho-physical gestures of our body and self and apply that toward acting techniques."
In addition to classes and the scholarship competition, multiple student directors and playwrights were selected to lead one-act plays. Attendees were then cast in these shows, including Conway, ElJamous and Cromly. Rehearsals were held throughout the duration of the festival.
"The one-act allowed me to meet and talk with actors at other programs and learn how to collaborate with new people and create a performance in such a short time," Conway said. "It reminded me how much I love the art of performing and bringing such amazing stories to life."
The final days of the event were dedicated to the students' final performances, showcasing all four student-driven one-act plays on Jan. 20 and the finals for the Irene Ryan scholarship on Jan. 21. After a successful run through the semifinals, Cromly was invited to perform her two monologues and one scene for the finals of the scholarship competition. 
The festival concluded with an awards ceremony in which KCACTF recognized attendees for their work during the event, including in design, directing, musical theatre, and screenplay. Cromly earned three awards, two of which were for her "Outstanding Performance" in the one-act play and the third award was for the Irene Ryan Acting Scholarship Runner-Up. While other Cleveland State students have made it into the finals of the Irene Ryan scholarship competition, Cromly was the first to earn the runner-up title.
Image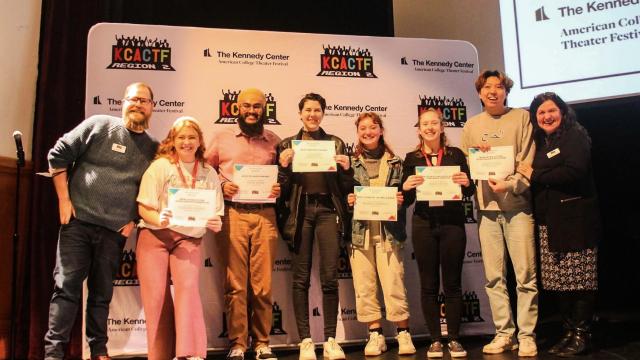 After over a hundred students auditioned for the Irene Ryan acting scholarship,
only six were honored for the work at the KCACTF awards ceremony,
including Claudia Cromly, second from left. (Credit: KCACTF Region 2)
"The 'Outstanding Performance in a One-Act' award meant much more to me (than the Irene Ryan scholarship award) because it was a beautiful play that was written by a wonderful person, Anastasia West," Cromly said. "She put a lot of faith in me in casting me in that role, and the fact that it was honored in the festival was amazing."
Cromly will graduate from Cleveland State in May with a major in Theatre and a Communications minor, along with ElJamous and Hodgson, who will both be graduating with a major in Theatre. Conway graduated in December with a double major in Theatre and French, as well as a minor in Anthropology.
The next KCACTF Region 2 conference is scheduled for January 2024. For more information on nominations and self-entries for next year, visit KCACTF's website.