Image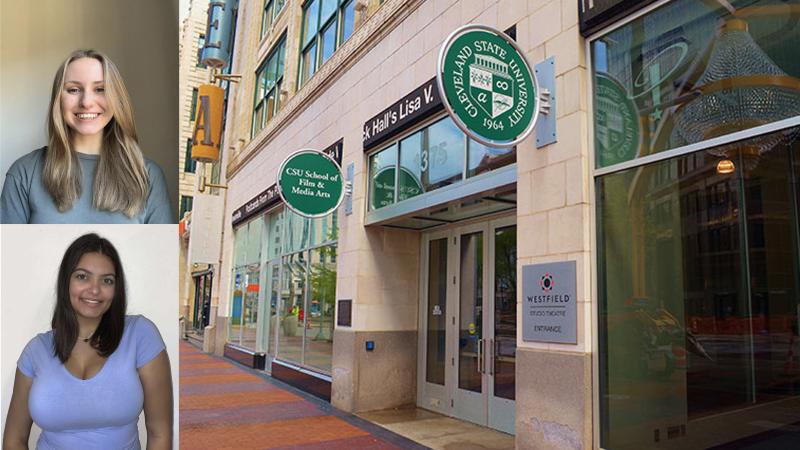 Credit: Lauren Brooks, Jacquelyn Wilson and Cleveland State University.
CSU film students appear as extras in new film, "Cherry"
During its filming in fall 2019, Lauren Brooks and Jacquelyn Wilson had the opportunity to work as extras on a professional film set.
If you make it out to the movie theater or scroll through AppleTV in the next few weeks, you may stumble across the newly released film, "Cherry" which features some familiar sites to Clevelanders — and even some familiar faces.
And no, not just the faces of the film's stars Tom Holland and Ciara Bravo who are sure to entice viewers, but even closer to home with Cleveland State University students appearing as extras. 
"There was a lady posting in the film school Facebook group that she needed extras one day and I kept checking her page like every single day and then I got to be an extra twice because of that," Lauren Brooks, a sophomore film major on the production track, said.
"Cherry" is a film based on Cleveland native Nico Walker's novel of the same name. This semi-autobiography tells the story of Cherry (Holland) who suffers from PTSD after serving as an army medic in Iraq and becomes addicted to heroin, then goes on a spree of bank robberies.
"The story itself is amazing because it's a little bit of a biography about the writer who wrote it but he made it more fictional — the writer/author that Tom Holland plays — he was robbing a lot of banks in Mayfield, Ohio because he had an opioid addiction because of PTSD," Brooks said. "And they really portrayed how bad the opioid problem here in our area is so well."
The movie, directed by Cleveland natives Joe and Anthony Russo, was filmed mostly in Cleveland and the surrounding area back in October 2019 through January 2020 and features backdrops of Little Italy, Lake View Cemetery, Coventry Road, Detroit-Shoreway and Case Western Reserve University's campus.
Brooks described her on-screen moment from one of her days as an extra when she was chosen to walk past Holland and Bravo on camera. It was "a college scene — at Case actually — and I think we were outside, in November, for like 6-7 hours and it was just a small scene that ended up being on-screen for like two minutes."
Her second day as an extra took place inside a gymnasium in Akron where the army homecoming scene was shot. Also there on that day was another CSU film major, Jacquelyn Wilson, a sophomore on the writing and producing track.
"They were shooting the homecoming scene which is the scene where Tom Holland's character just gets back [from the army] and he gets the badge of honor and meets with his girlfriend [Bravo] again," Wilson said.
Although she is not visible on screen, Wilson spoke highly of the experience of working on a professional film set and everything she learned from it.
"When I went to see the film and I was with my friends, I saw my cousin and I saw my other friend and then I didn't see myself," Wilson said. "And I'm sure people were like 'aw that must stink,' but I still think it was really cool that I got to be there and learn things."
Before filming began in the fall of 2019, there was a big push to get "Cherry" filmed in Cleveland, especially with the story's connections to the region.
"I remember I went to go see the premiere of the movie "The Last Summer" and the director of the Cleveland Film Commission was giving a talk about trying to get more movies filmed in Cleveland and he was like 'Oh, the Russo Brothers are trying to get this one story made here — we don't know if they're going to make it here yet'," Wilson said. "And I was like fingers-crossed, I really hope they do because they're a big name."
"Cherry" was released exclusively in limited theaters February 26 for two weeks before opening more widely on March 12. The film is now showing at a wider range of theaters and is available to stream on AppleTV with a subscription.
For Brooks and Wilson, "Cherry" was their first look at how a professional film set runs and hopefully not their last as they complete their studies and build upon their resume at the School of Film and Media Arts.
"There's actually two movies apparently that might be filming this summer here too," Brooks said. "So hopefully there's more opportunities for me to get in, or just anyone in Cleveland and the film school."