Image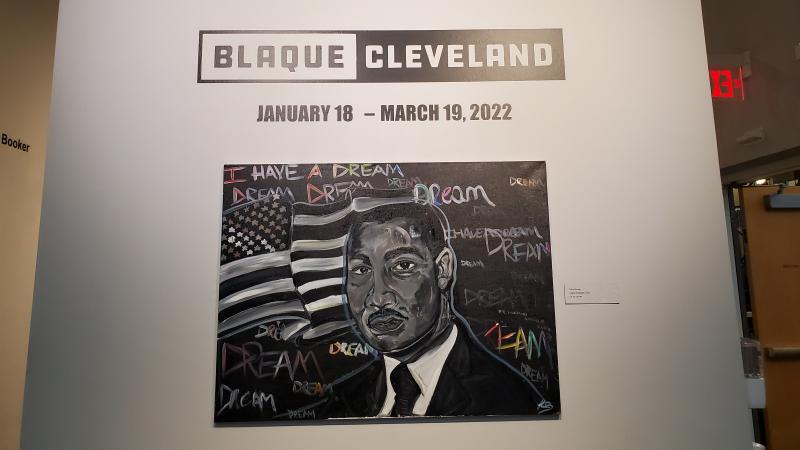 Credit: Willow Graley
'Blaque Cleveland' exhibition highlights the city's Black experience
The art exhibit showcases issues within the Black community through various media.
Cleveland is a welcoming city full of vibrant, rich culture as the locals come from various backgrounds, such as African American, Asian, Hispanic, and white, to name a few. The Black demographic is the core city's largest, making up 48.7% of the population.
While diversity and culture are rich in this melting pot of a city, representations of the many communities, like the Black community, are growing, but issues within those communities are often ignored.
To help address this, CSU alumnus and curator Brendan Whitt, is hosting "Blaque Cleveland" at CSU's the Galleries in Playhouse Square. 
"I just want people to walk away from this exhibit to understand that Black people are a diverse group. We're not a monolith," said Whitt.
"Blaque Cleveland" brings attention and focuses on issues within the Black community, such as police brutality and culture like music, but also looks at how the public views the Black community. The exhibit showcases artists Kiara Booker, Dakarai Akil and Isaiah Williams. 
Williams, 30, was the featured artist and speaker at a "Blaque Cleveland" event Thursday, Feb. 17. Williams held an open discussion to discuss his artwork and for the audience to learn a little about him as an artist and his interests. 
"Showcasing at Cleveland State University is a really cool experience," said Williams, "There have been countless of amazing artists (through) many decades that have shown their work here, and to now be a part of that long list of artworks that has been on these walls, is definitely an honor." 
Born and raised in the city, Williams captures spirituality, childhood and social standards within his art. He tells a story using "abstract shapes and playful colors," but he also maintains a focus on what makes him happy and what his audience will enjoy. 
During the discussion, there was a lot of focus on his Discovery of Innocence piece, which focuses on youth and childhood. 
Credit: Willow Graley
Caption: Acrylic painting titled Discovery of Innocence 2021 by Isaiah Williams. 
This piece captures how the Black community, specifically youth in the Black community, continue to be viewed as criminals today. Williams wanted to show how important childhood dreams are and how innocence grows but then crumbles as the world continues to push stereotypical narratives on the Black community.
His works were joined by those of Akil, an artist who focuses on issues such as police brutality and social expectations through collage. 
Credit: Willow Graley 
Caption: A collage piece titled Scan 187 2020 by Dakarai Akil.
Booker was the third artist featured at the exhibit. She creates vibrant pieces that capture the beauty in Black women and culture in the black community through acrylics and oil on canvas. 
Credit: Willow Graley
Caption: Oil on canvas piece titled Ground Up 2021 by Kiara Booker.
While Akil creates collages on societal expectations and purgatory and Booker highlights the beauty in Black women and culture, Williams focuses more on the human body and landscape. 

Credit: Willow Graley
Caption: Acrylic painting titled Falling 2021 by Isaiah Williams.
Not only do the artists capture the issues the Black community faces, but they also capture these issues through their eyes and experiences as community members. 
Williams says it is not only for his art to be showcased as an artist, but important for others to see it. Williams has created art throughout the Cleveland and Parma area, and outside of Ohio in states like California. 
He said The Galleries -- a space which serves as a learning experience, a place to apply critical thinking skills, a safe place to contemplate, study and share knowledge -- helped him "push his limits as an artist to utilize the space more efficiently."
"Blaque Cleveland" will show until March 19. Williams has this message for all aspiring artists: 
"Keep doing what you love to do, keep painting and don't let other people tell you, you can't be a painter or let other people tell you, you can't draw, because not everything is about being a Michelangelo. Sometimes you can be a Picasso, you can develop your style and keep swimming that river until you make it into that big ocean... You'll find your way as long as you stay consistent and really mean what you say and paint from a place that resonates with who you are."
For more information on the exhibit and more about The Galleries at CSU, visit its website.