Image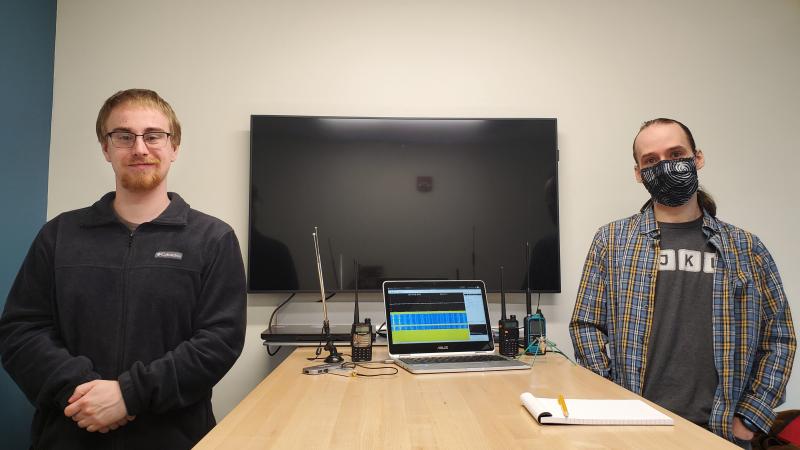 Credit: Willow Graley
Amateur Radio Club looks to get students their radio license
Curators Eric McCallum and Collin Simpson created the Amateur Radio Club for students who are interested in radio technology.
Electrical engineering major Eric McCallum and computer science major Collin Simpson, both students at CSU's Washkewicz College of Engineering are launching the Amateur Radio Club (ARC) to support students interested in radio technology and amateur broadcasting. 
ARC is a start-up that will work off campus and teach students about radio technology and how to put it to work. Students will get hands-on experience, starting with handheld radios, learn how to use them and launch themselves into the world of amateur ( "ham") radio.
McCallum, the club's co-founder, is a transfer student from Case Western Reserve University.
"I was inspired to start [the club] because I want students to be able to get involved with a fun extracurricular activity," said McCallum. "I would like students to be able to get their hands on with what they're learning, what they're doing and be able to expand and grow from their education, and to increase Cleveland State's presence with their extracurriculars and with what they can provide to students." 
McCallum said he was inspired to start ARC by his friend and former mentor, Dr. David Kazdan from Case Western Reserve University. 
"When I was at Case, I was briefly introduced to the club by him and I got to get involved with some of the club activities that were involved with Case at the time," said McCallum. "He recommended that I start my own club on campus at Cleveland State where we could essentially have a Ham radio presence that is involved with the campus." 
The club aims to be fun, but has a serious and practical goal.
"The purpose of organization shall be to promote learning and problem solving in relation to radio technology, and to advance skills in the technical and communication phases of the radio art as stated in the FCC rules and regulations." 
The club's other co-founder is computer science major, Collin Simpson. He's excited about introducing students to the world of amateur radio.
"I'm excited to get things moving and see what we can accomplish," Simpson said.
Credit: Willow Graley
Caption: McCallum, left, and Simpson working together to transmit radio frequency. 
He explained the types of software involved and what students could do with them.
"I do think that SDR or software defined radio is one of the best ways to start learning about radio and get into the hobby," Simpson said. 
"It's basically a computerized radio. So the one I have here, the RTL SDR blog v3, plugs into your computer with a USB and allows you to listen to a whole range of radio frequencies with computer software," the computer science major explained. "This includes AM/ FM radio stations, police radio, emergency weather alerts, aircraft and satellite transmissions, HF transmissions across the globe and more." 
Simpson said he hopes to teach students the different areas of radio and expand their knowledge of the field. 
"I do think there's so many different applications of radio. There are a lot of different areas, which is something that I found really exciting when I first got into radio," Simpson said, "So, I think it'll be important to give students a little taste of the different ways that it can be used and get professors feedback, just to kind of provide a broad picture of what's out there." 
 
Credit: Willow Graley
Caption: Handheld radios and antennas are just a couple of the resources students will be learning about and using at ARC.
Simpson also added what he hopes students will gain from the experience with ARC. 
"I hope that students can acquire deeper knowledge about, and appreciation, of what radio is and how and where we use it in our daily lives," Simpson said. "I also hope, as a club, we will be able to provide resources to students who are interested in it and learn more about it, or, if they have projects or knowledge that they want to share with other students, I think we can all learn a lot from each other."
McCallum and Simpson also plan to introduce club members to the world of ham radio.
"To transmit, you need to have a radio license provided by the FCC. You can take a test for your technician's license and you are legally able to transmit certain frequencies," McCallum said. 
"You are able to listen and access, with software defined radios, a lot of different frequencies," he added, "But to transmit in the United States, you need to have your radio license." 
The FCC is the Federal Communications Commission. It's the government agency that regulates broadcasting, including radio, and grants radio licenses. Anybody interested can get a head start on earning their radio license by accessing the FCC portal here.   
But, if you're a student at CSU, McCallum and Simpson hope you will join ARC and they will help you get your license and start connecting to people, not only in the U.S., but with anyone anywhere who is an amateur radio fan.
If you're interested in joining ARC or finding out more about the club, you can contact Eric McCallum through Vikes Connect.