Image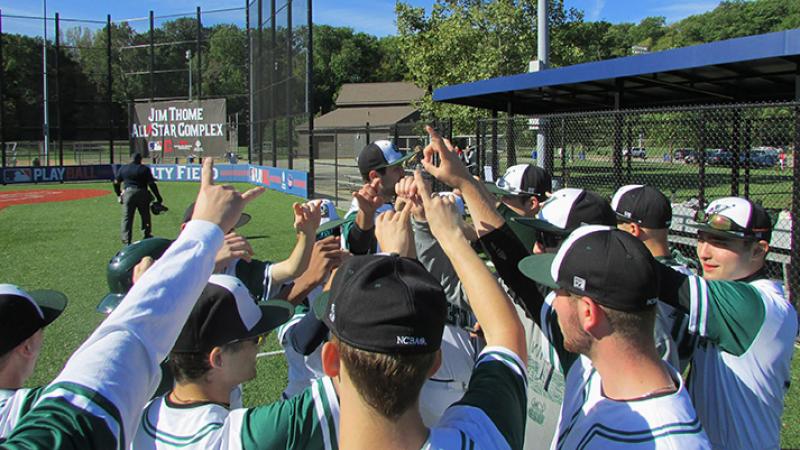 Photo courtesy of Club Baseball
Club baseball swings into action for second half of season
Cleveland State's Club Baseball Team is ready to lace up the cleats and hit the field for the second half of its season. The season, which began back in the fall, has started off nicely for the Vikings. 
It is sitting 7-6 overall with a 4-5 record in the New Penn Central Conference. It also ended the first half of the season on a three-game win streak.  
The Vikings are one of six teams in the conference. Joining them are Kent State University, The University of Akron, Bucknell University, Pennsylvania State University and Bloomsberg University.
Ending on a winning streak was just part of the recent success. But vice president and junior shortstop Jaret Glassman said that he is happier with the improvement of the team.
"There has been significant improvement from what there has been in the past two years," he said. "It's really good to see how far we have come. We are over .500 which is awesome, and every game we have played in there hasn't been a game where we have been outmatched. We have been neck and neck."
The first half of the season stops in Nov. and resumes in early in March. 
The team will continue to practice during the break. Team president and junior center fielder Alex Radzin says taking a spring break trip to Florida and playing over break will also help shake the rust off. 
"We usually take a trip down to Florida to play conference games, but they are not as important as the regular season," he said. 
"It is just a week full of baseball," he said,  "just to get us ready for the remainder of the regular season to give the team a chance to see some live pitching and see different speeds of pitches along with different arm slots pitchers have to get us ready." 
Club teams playing against big name schools is exciting according to Razdin. "It gives you a good sense of what it could have been even though it's not exactly the top level," he said.